Sign up

and we'll keep you up to date with our products and new releases!

Email

*

First Name

Last Name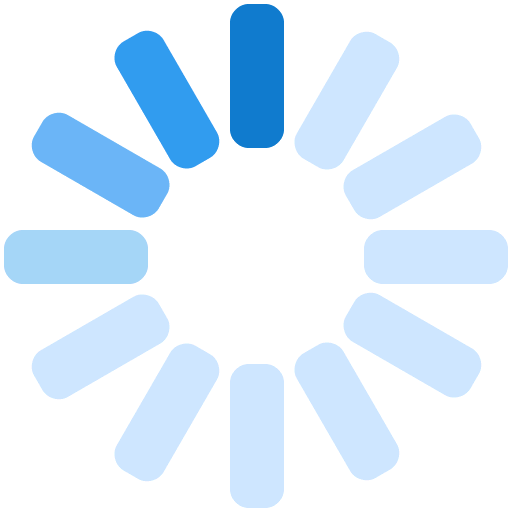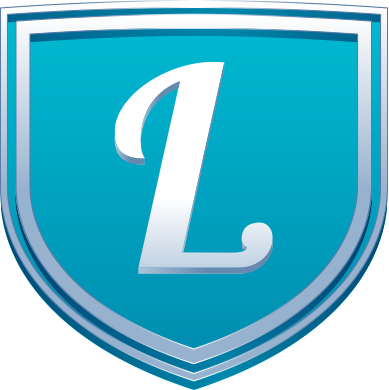 Indigo8 Lite
The most affordable
wholesale fashion software on the planet
Indigo8 Lite is a highly affordable solution for running your fashion or wholesale business. Lite uses the latest cloud, mobile and desktop technologies to deliver unequalled visibility of your sales, purchasing, warehouse and operations, in a single solution.

Lite can be expanded to manage your web site and retail operations, and if you grow to where you require a more tailored system, you can upgrade to our Enterprise product, seamlessly.
Style Information
Images, colours, sizes and prices by Style not by SKU
Sales Orders
Build, import, search and report on all orders by style, collection, customer and more
Invoicing
Invoice sales orders in part or in full; in bulk, or one at a time. Assign back orders. Apply payments. Manage customer statements.
Accounting Integration
Integrate with MYOB, Xero and Quick Books (coming soon)
Customer Information
Update, view and share across your entire company
Sales Order Allocation
Consolidate many styles across multiple Sales Orders into single Purchase Orders, in minutes
Purchase Orders
Manage Bulk Orders to Suppliers
Warehousing
Arrive stock and manage inventory by Style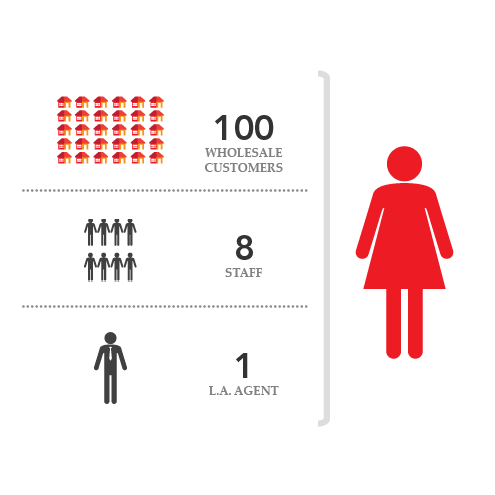 meet
SAM
Sam is a Sydney based fashion designer, running a successful clothing label with 8 staff in an industry that is highly competitive. She currently sells to over 100 Australian retail stores and work's with an LA agent who represents her label there
Sam's fashion supply chain management including products, customers, suppliers, prices, sales, purchase orders and inventory are all stored within Indigo8.
Her staff constantly use it to analyze information, answer internal and customer questions, search on order information, account inquiries and all other general items that are part of the product development life cycle. In other companies in this industry this information is typically stored in spreadsheets.
The following is the typical path that a collection will take as it moves through our Enterprise apparel plm software, we hope this will help you understand how Indigo8 technology works.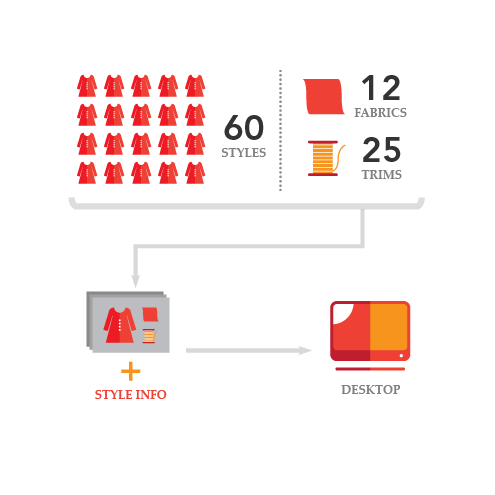 Product Design
Sam has just designed a new collection consisting of 60 new styles. She now wants to get them into her Indigo8 supply chain software so that she can order her samples and calculate her costs and prices.
Because Sam is extremely organized, she is using 12 fabrics and 25 trims across the entire collection; she places each fabric and trim onto a template before dragging the required items to their designated styles.
Sam then drags the artwork and images of the styles from her desktop onto the styles as well. Filling in any technical information, before finally applying the specs and size information.
Her product input is now complete. From here, Indigo8 Solutions provides Sam with technology that has literally transformed her fashion supply chain.
Sampling
Sam's assistant order's the samples and tracks their progress using Indigo8 Solutions fashion supply chain software. It tells here which samples needs to be sent out, what is at the maker and the styles that have been sent back ready for quality checking and photo shoot.
Our apparel supply chain software provides technology to manage the entire process from a single screen within the system.
Pricing
As samples arrive so will the factory FOB prices, Sam records the FOB prices in the system and then used it to calculate her other costs such as freight, insurance and forwarder fees. She can then use some simple tools to help her work out her margin, wholesale and retail prices.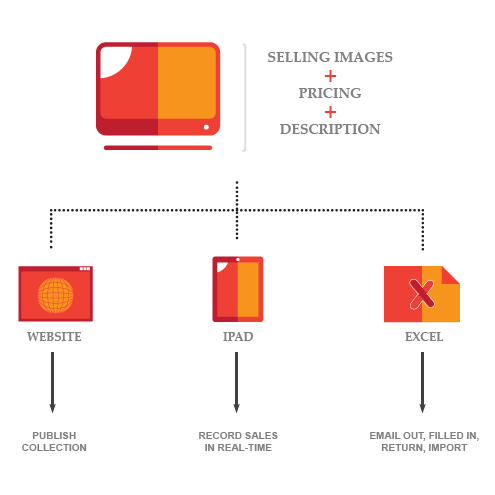 Sales
When the samples arrive, Sam arranges her selling photos and uploads them into the Indigo8 SALES module.
Armed with pricing, description's and selling images, she uses this information in the following ways;
WEBSITE
Soon after organising her sales, Sam arranges for the new range to be published to her integrated web site, she can do this with a single click of a button.
IPAD
Her sales staff and agents can record sales in real time. Any sale recorded will feed directly into the main system, right from their IPAD.
SALES FORMS (Excel)
For sales people without Ipads they can use the system generated excel sales forms. Which can be emailed out to anybody, filled in, returned and imported quickly and easily.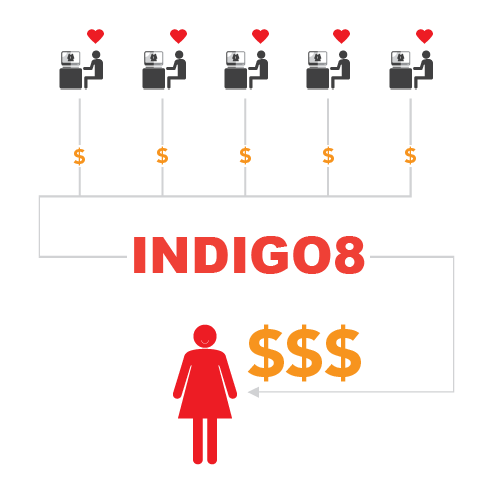 Ka-ching!
The new collection is selling like hot cakes, Sam has hundreds of orders flowing directly into her plm software system, which have been entered with minimum effort, there has been almost no double entry of information. Sam's apparel supply chain has never been so organised.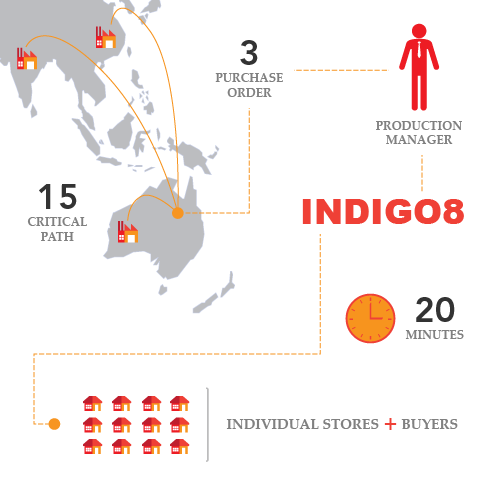 Consolidation
Sam is getting the collection made with three different manufacturers. One local and the others in Asia. She wants to create three purchase orders and track the status of around 15 critical path tasks for each factory.
Her production manager uses Indigo8 to consolidate all those sales from hundreds of individual stores and buyers into just a few Purchase orders. Our system can perform this function that used to take the Production Manager days in just 20 minutes.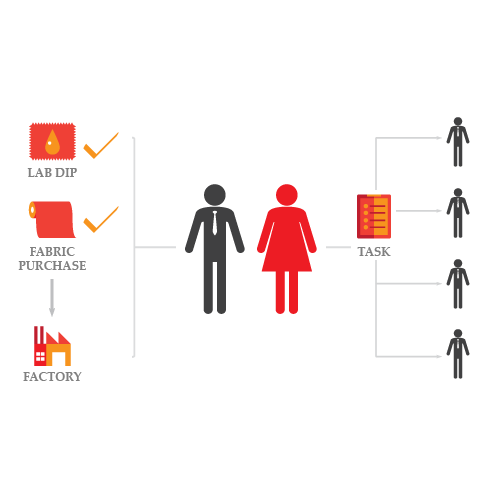 Purchase Order Management
The production manager uses our critical path feature to track lab dip approvals, and fabric purchases that they need to arrange and send to the factory.
The system allows her to create her own tasks and assign them to internal staff and track what is going on.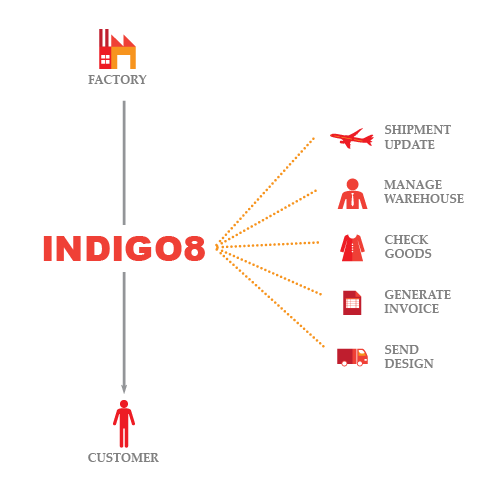 Delivery of the goods
Sam's products are shipped from the factory to both New York and Sydney for distribution which is managed internally.
The system allows for Sam to have an unlimited number of warehouses, so this is easy for her to track.
Her team then use Indigo8 to receive and check the goods, generate the final invoices and send her designs to the people that orders them. This is all seamless and each delivery is based on the original sales order.
Using modern solutions and innovative technology our product lifecycle management software provides order in an industry that is often swamped in data entry and confusion.
MAC & PC... It's up to you
Integrate your business with Indigo8 Lite today
Reduce data entry by sending style information directly to your website.Your website will always know your stock on hand and will build orders directly into your operational system.

Send invoices and payments to your accounting module and organise your retail business by integrating with the best Fashion Point of Sale System on the market.
Start the conversation today
Enterprise
Implement in weeks
Click here to start the conversation
Let's talk about
Lite
Enterprise
Name
*

Email
*

Company
*

Country
*

Message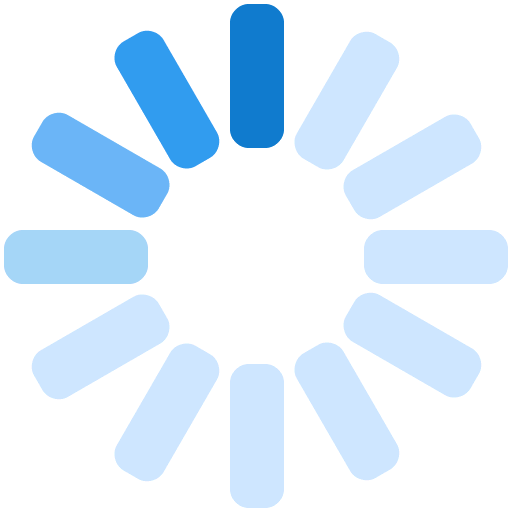 Start Conversation